Issue
Don't see the option to attach the script. and don't see the Test Credentials step in the enabled options.
Can't find the button to upload developer sign-in script for authenticated channel (shown below).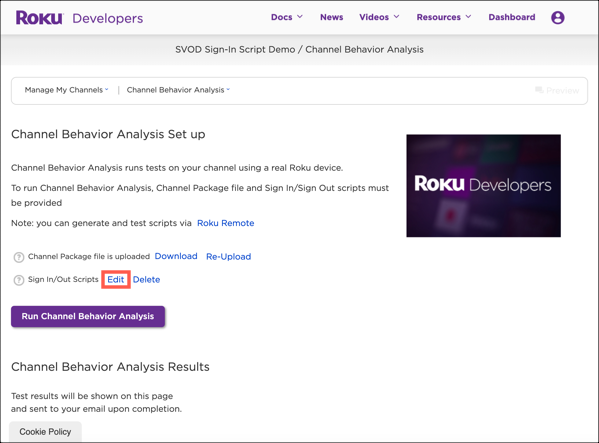 Environment
Developer Dashboard
SDK
Channel Behavior Analysis
Answer
First, developer sign-in/out scripts are only available for Public channels. If you are looking for this feature on a beta channel, you will need to create a public channel first.
If you can't find the Sign In/Out Scripts button shown below for your Public channel, make sure your channel Customer Account Requirement field is accurate. For more information, follow the steps below:
Open the Developer Dashboard, click Manage My Channels, and navigate to the channel you'd like to run Channel Behavior Analysis on.
Click Preview and Update next to the channel and find the Properties page in the Preview and Update dropdown.
Scroll down to the Customer Account Requirement section and ensure you've selected the radio button "A customer account is required to access some or all channel features."
Click Save.
Navigate to Channel Behavior Analysis. You should now see the option to upload your .rasp script file.
Additional Resources